Ready for Christmas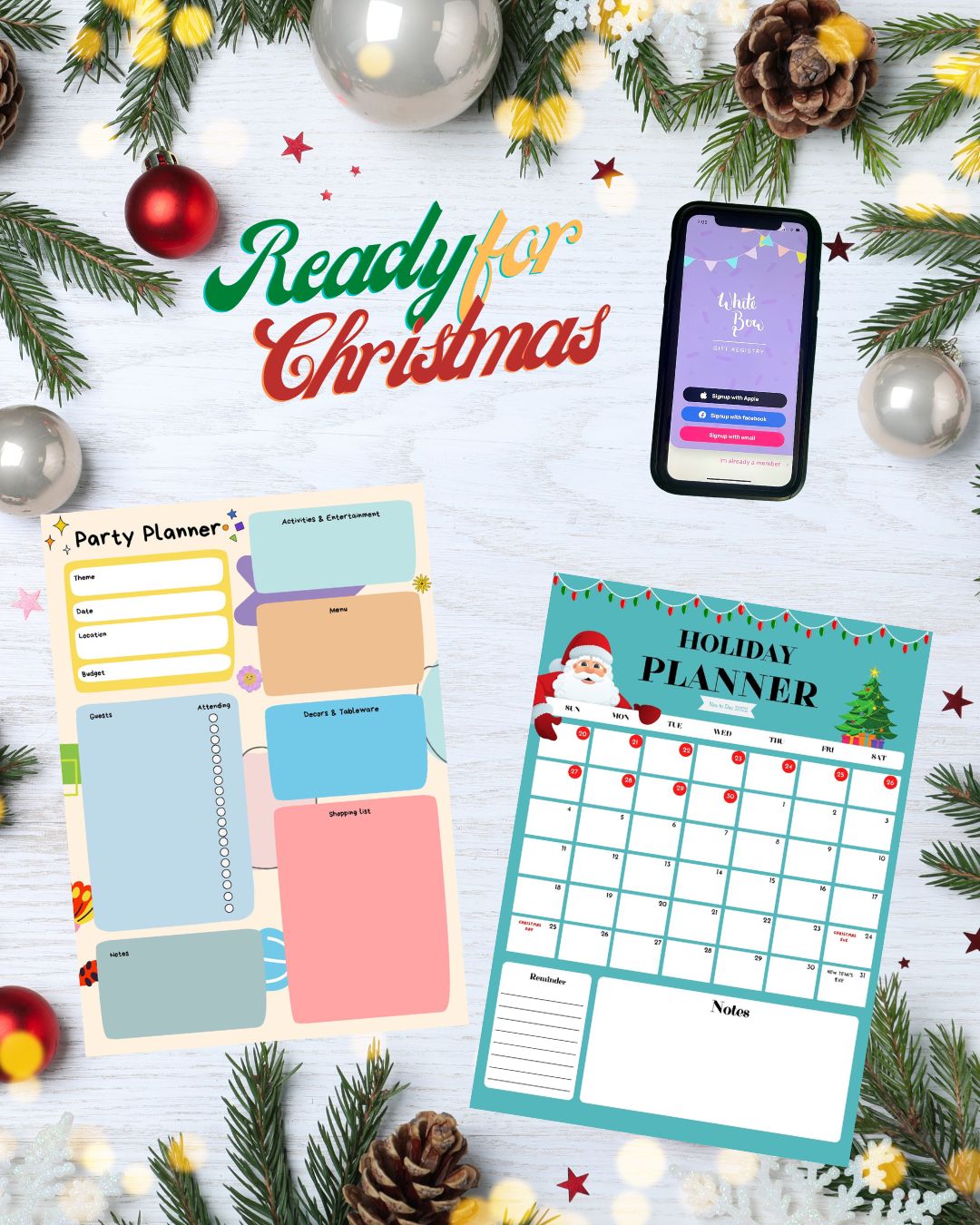 Last Updated on November 21, 2022 by White Bow
Here are some helpful tips to be ready for Christmas.  We have prepared a holiday calendar and party planner that you can download for free. You can also learn about our tips to help you prepare for the holidays. Christmas does not need to be stressful. But with our tips and tools, you will certainly be ready for Christmas.
Organisation
Download our Holiday Planner 2022 and print it for free. You can write all the dates of events you are attending in this planner.
You have probably been receiving invitations or notifications of upcoming events, such as work Christmas parties, school events, and other holiday events. Make sure you have RSVP'd or bought the tickets for these events.
Holiday Activities
Work out what you want to do for Christmas. Decide if you want to host a Christmas gathering and if you want to go away for the holidays. If you want to go away, book it as soon as possible. The longer you put off your plan, the more expensive it will be. Worst, the place you want to go to could get booked out.
If you are hosting a Christmas party, download our Party Planner. This planner is a good tool to be ready for Christmas. Use this planner to write essential party information to remind you to prepare to make your party less stressful.
Connect with people
Have you found yourself thinking that another year is almost finished, and you have not caught up with people dear to you? Christmas time is the ideal time to reach out to them. Make a list of people you want to connect with this holiday period:
If you are hosting a Christmas gathering, list the names you want to invite.
If you want to catch up with people for the holidays, speak or send them a message and ask for their availability and suggestion for a place where you could catch up.
If you are unable to see people during the holiday season personally, do send them a card. Create a list of the people you want to send a card to so you do not miss anyone. If you have young kids, you can get them to make personalized cards. Making cards is a fun and creative activity for kids to do. Check out our Christmas card ideas.
Gifts
Create a wish list for the whole family to avoid duplicated and unusable gifts. Our White Bow Gift Registry app is a great way of managing the whole family's wish list. You can create a wish list for each family member. You can share the wish lists with family and friends who want to find out what your kids want. Sharing your wish list is also a good way to hint at loved ones who seem to buy the wrong or redundant gifts due to incorrect size or unflattering designs. If you have loved ones who are last-minute shoppers, then this app is ideal for them to use. Your family's gift lists will be available to view until the specified event's date. So if you have the event's date as December 25, then they can view the gift lists up to that day.
Shopping
Create a shopping list now to avoid last-minute shopping and going over budget. Include in your shopping list things such as Christmas decorations, food and gifts.
Do try the White Bow Gift Registry app. You can create your wish list using any store with White Bow. Using this app will delight your family, especially the kids, because they know they will get what they desire. The app is also a good way of controlling your kids' gift lists, as you will be able to see the cost of the gifts they list. Having a wish list also ensures there is an element of surprise, yet it builds assurance that they will get the gifts they asked for.
You can download the app from the Apple store or access the web app through our website and use it on your computer or phone browser.  The app is free to use for a year!
Christmas
,
christmas wish list